Al Amal Project, Khan Younis, the Gaza Strip
KEY NOTES
Gaza Strip is about 45 x 6-12km wide with a total of 365km2.
Estimated population of over 2 million people or over 5,840 per capita/km2.
About 1.2 million are registered refugees with about 0.54 million living in camps (most of those living in camps are under 18).
50% of the population are food-insecure or vulnerable to food security.
About 426,000 Palestinian refugees are considered living below the absolute poverty line:
Unemployment is 43% (over 60% among youth), the highest in the world)
Over 80% of Gaza's population is aid dependent.
A child in Grade 1 (2016) has experienced three wars in their lifetime. About 50% of children are assessed as suffering Post Traumatic Stress Disorder.
BACKGROUND
In 2013, Global Gardens of Peace (GGoP) began collaboration with Khan Younis Municipality (Khan Younis), Gaza Strip, to design and construct the 'Garden of Hope' (32 dunam/3.2 Ha). Other partners include UNDP/PAPP (UNDP), along with strong support from the Union of Health Working Committees and Union of Agriculture Working Committees, Gaza.
In late 2017, a GGoP mission to the West Bank achieved strong interest from other prospective donors and partners. Unfortunately, the political situation soon worsened and the current, dire economic and social situation in Gaza made it very difficult to obtain the necessary financial support to complete this large-scale project.
In July 2018, Khan Younis advised GGoP and UNDP that the Gazan situation is so grim that their people are desperately searching for safe places to escape their trauma and to find healing for mental health challenges. In searching for this relief, green spaces and gardens are considered by the people as more valuable than hospitals and clinical health services. In September 2018, this advice was followed by a letter from the Mayor of Khan Younis as a plea for help to GGoP. He described gardens as "lifeboats for drowning people". Khan Younis highlighted there are 11 abandoned small areas in the Al Amal ('the Hope') neighbourhood that could be converted to gardens to provide much needed relief. It was advised that constructing at least one of these smaller, focussed landscapes was more achievable and could meet urgent humanitarian needs. This is supported by research that indicates people with access to even small, urban gardens can have significantly improved mental health.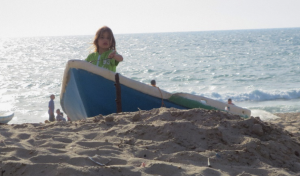 AL AMAL NEIGHBORHOOD
he Al-Amal neighbourhood is 822 donums (82 ha) and is one of the most densely populated and deprived areas within Khan Younis municipality. In 2017, there were 24,284 residents with an overall population density of 29.5 person/donum or an equivalent of 29,500 people per km2 —this is over five times the typical population density of Gaza. The site is readily accessible from the middle of KY City and other close densely populated areas, including the Khan Younis camp (refugees) (one of the largest in Gaza) which is close by. The 11 abandoned areas were originally set aside for urban parks and are about 2 donums/2,000 m2 for each area— most are surrounded with concrete walls, with some including steel fences.
AL AMAL PROJECT OBJECTIVES
Adhere to the mandate of the UN Sustainable Development Goals (SDG's), in particular and inter alia, Goal 11.7: "By 2030, provide universal access to safe, inclusive and accessible, green and public spaces, in particular for women and children, older persons and persons with disabilities".
All-ability access and opportunity for recreation
Provides capacity for local employment value both in construction and in continuing maintenance and servicing
Landscape elements support other organisations to provide education and health programs to add considerable value for the project beyond what is a relatively small area. Other services might include a mobile library and storytelling, children's cinema, arts and craft, etc.
Maximise diversity of plants and natural experiences as possible to provide a high wellbeing to space ratio within a relatively small space. Shade and turf areas are also important components to maximise cooling and relief from hot days, as well as social cohesion.
Include landscape-sensitive food production with an emphasis on shrubs and trees for long-term sustainability.
Provision of interactive play equipment that helps develop both physical skills and emotional resilience for all abilities (elevated equipment and features can reduce area footprint ).
Seek to include water features that do not require intensive treatment to achieve required water quality.
Consider community gathering area and small-footprint sport area that could be multi-purposed.
LANDSCAPE DESIGN INTENT
"The Park at Al-Amal has been designed for families and children to delight in nature and to develop a passion for plants. It is a place to enjoy the natural world and to walk with family and friends; a place for healing, for replenishing the spirit and for nourishing the soul; a safe place for children to play and to develop physically and socially; and a landscape in which people can celebrate life through art, performance, and culture. It is a place which welcomes people of different ages, different abilities, and different beliefs. Through consultations with Palestinians living in Khan Younis, in Gaza City and in Melbourne, we have gathered cultural aspirations and ideas to inform the design of the garden space.
It is important that this park is a place of beauty and that it is a peaceful space for children and families and friends to gather.
The garden must be sustainable in the long term and the plants selected must perform well in the climatic and environmental conditions of Khan Younis. Materiality is an important design consideration. We will emphasize the engaging of older traditions, the embracing of materials which are locally available, materials which are part of the cultural context, materials which can be safely recycled, and the use of materials which leave acceptable ecological footprints. We aspire to design concepts which connect to local culture and which could be locally built so that the garden relates to both the place and its' people."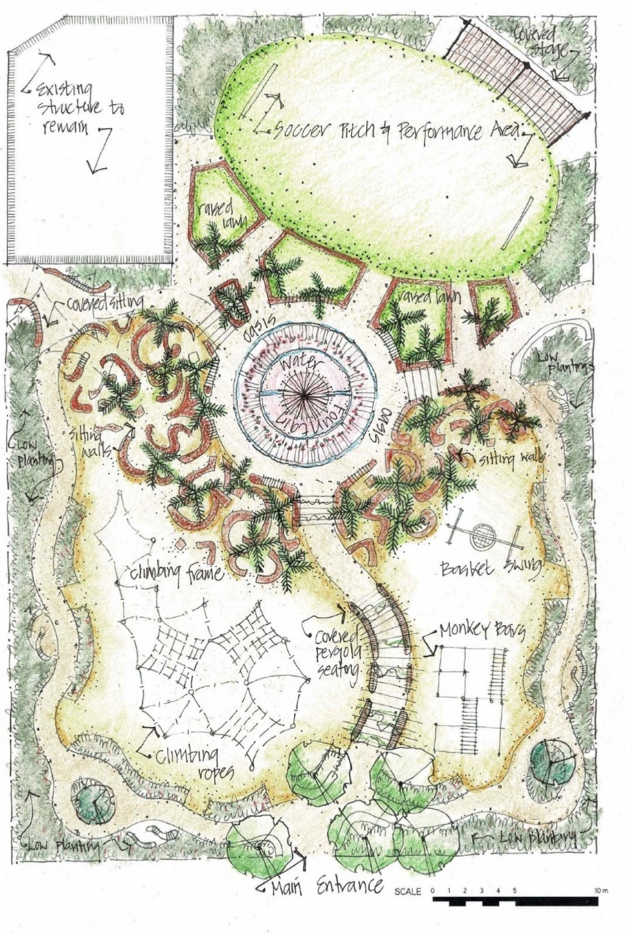 PROGRESS TO DATE
Completion of advanced landscape design concept
Preliminary budget and costings
Australian donors have committed funds of AU$300,000
(The current COVID-19 pandemic presents a considerable challenge to deliver this project, but Global Gardens of Peace is currently working creatively through this in consultation with its partners in Gaza.)
STRATEGIC VALUE OF THE AL AMAL PROJECT
Al-Amal is a blueprint project that will highlight the value of these high-performing landscapes as humanitarian responses for supporting human wellbeing. These community spaces are living demonstrations for other donors investing in these projects, urban planners and technical practitioners alike. There are high prospects for this initiative to catalyse 'building back better' living infrastructure.
It is GGoP's proposition that the Al-Amal project is the first step in the development of a network of gardens and landscapes on the road to achieving the landmark Garden of Hope project and the re-greening of the Gaza Strip.