Colac Area Health, Palliative Care Project, Colac, Victoria
BACKGROUND
Colac is a regional town of over 12,500 people in the western volcanic districts of Victoria, Australia. It is about 150 km from Melbourne. The main industries include agriculture, timber with associated manufacturing, meat processing and a thriving tourism industry. Colac Area Health (CAH) provides a complex range of healthcare services, including urgent care, acute medicine and obstetrics for more than 30,000 people in the Corangamite, Colac Otway, and Surf Coast Shires. Annually, it supports about 6,500 hospital patients and there are over 10,000 visits to urgent care.
In December 2019, Global Gardens of Peace were contacted by a family member who had the recent experience of losing a loved one in the palliative ward of CAH. Her powerful and moving testimony speaks for itself:
"I sat beside Bob's bed for five days and watched his life ebb away, after a long battle with cancer. We were all there on and off over those days; my mother, my two brothers and our families. All the staff were amazing. Every single person we interacted with was professional and showed genuine care and respect for us and my dear stepdad.
On the third day, I decided to walk to the hospital cafeteria for a cup of coffee away from the palliative room, away from the constant laboured breathing of my loved one, away from the tension hanging in the air. As I turned the corner of the walkway, I was compelled to stop and my breath was taken away by a tiny little bit of garden – the size of a pocket handkerchief, but clearly tended to and loved by someone. It had roses in bloom and bright green ground covers rambling over white rocks and around the base of several small stone figurines. I was instantly relaxed and forgot my troubles, just for a few moments. Glancing upward, I noticed a window in the building behind the garden, with potted plants on the sill, and I could just make out the head of a staff member at a desk beyond. I tapped on the window to enquire about the little garden, and to my delight, discovered the person who was responsible for it, a passionate employee of the hospital called Denise. She came out and we talked about how the garden came to be, the story of the statues scattered throughout, and I was able to thank her for the emotional and spiritual lift she had given me in my moment of distress. I returned from the visit to the cafeteria with a renewed strength to carry on.
As I walked back into room 28, I was struck by the starkness of the courtyard space attached to the room, accessible by a door in the floor to ceiling windows of the wall facing the courtyard. The floor of the courtyard was a mix of concrete and false turf, with a solitary bench seat and dry bird bath in the middle (with plaques indicating they had been donated to the hospital). It was such a contrast with that little bit of tended garden Denise had created, and how much better I had felt in the company of living, beautiful plants. It was in that moment that the idea of a courtyard garden started to form in my mind – the potential of the benefit others might also get from a beautiful green, living space, while their loved ones are sick; a place to breath fresh air, to smell the scent of flowers and the potential for a few moments escape from emotional turmoil.
THE SITE
There are two larger single rooms on the acute ward that are used for the care of palliative patients and their end of life's journey. These rooms have sitting places for family and a small kitchenette. Along with five of the acute ward rooms, there is access to a rectangular courtyard, bounded on three sides by hospital rooms; the fourth side is lined by frosted glass windows adjoining a covered walkway. This courtyard currently contains a concrete pathway, artificial turf, a bench seat and a concrete bird bath.
THE OPPORTUNITY
There is considerable scientific evidence and growing recognition that green space provides a wide variety of therapeutic benefits for patients, their families and staff in the hospital environment. Studies indicate faster recovery from physical and emotional trauma just with views of gardens in hospitals. https://www.scientificamerican.com/article/nature-that-nurtures/ Direct access to a dedicated green space for palliative care patients will provide an opportunity to de-institutionalise the palliative experience. It also provides an opportunity for family to have a space to gather or take time out of the clinical environment. At Colac Area Health, staff are often caring for a member of the community known to them, a green space would offer them the opportunity to also move outside the clinical environment to care for their own wellbeing.
PROJECT DEVELOPMENT
In response to the concerns raised by the family member, Colac Area Health (CAH) subsequently also contacted Global Gardens of Peace to arrange a landscape consultation and site analysis (held in Colac on 1 February 2020). This workshop included the CEO of CAH, employees and community representatives. Included in the discussion were family members who had lost loved ones at the hospital. CAH highlighted that the landscape development needed to serve the needs of a wide range of clients and employees to enable a wider access to the benefits of a green healing space. There was considerable enthusiasm for the project and many creative ideas were documented. It was also agreed to create a project control group that would form the connection between GGoP, CAH and the local community.
The design of this landscape is confronted by a demanding site which will require a high level of professional skill to achieve desired outcomes. It's a relatively small location surrounded by brickwork and glass, and light levels are highly variable through the seasons.
Current estimates of the landscape construction cost are currently over $50,000 but this will vary depending on the final agreed design. Funding is expected to be sought from public and corporate fundraising events, private donors, and potential grant applications to local council and the hospital foundation.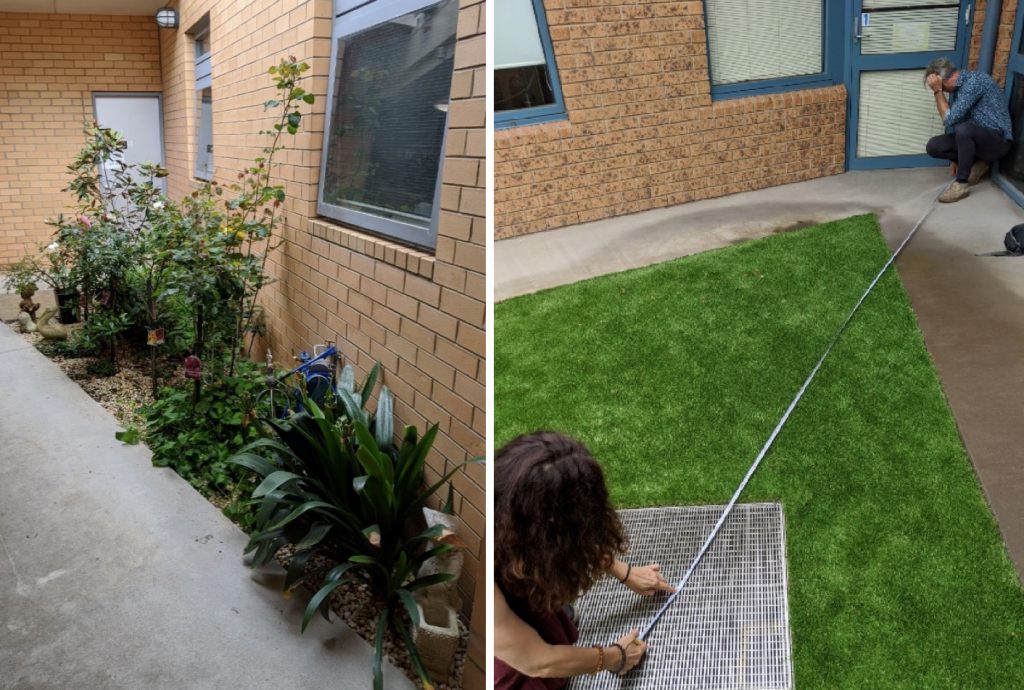 PROGRESS TO DATE
Completion of landscape consultation with Colac Area Health and community representatives onsite
Donations have already been received from community groups and families following palliative care experiences with family members
Formation of project control group
Wider community consultation is planned by CAH but currently on hold due to the COVID-19 pandemic issues